RT
Fri, 25 Sep 2015 15:28 UTC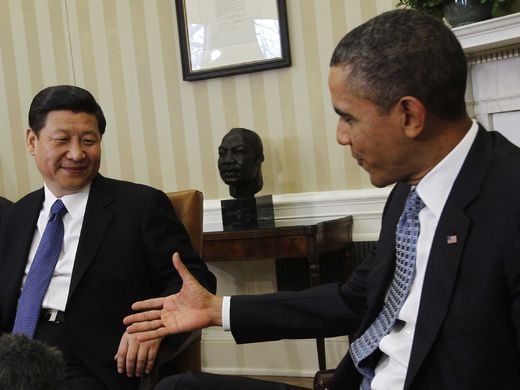 Chinese President Xi Jinping's US tour might leave a nasty aftertaste
after Washington threatened Beijing with economic sanctions over alleged hacker attacks against American business entities
.
Xi is touring the US ahead of negotiations with Obama, meeting senior business figures and securing huge deals, but the US administration has an agenda of its own and does not limit itself with formal ceremonies.
The recent cyber scandal at the Office of Personnel Management, already dubbed the biggest government hack in US history, when the agency admitted the hackers gained access to 5.6 million fingerprint records, has pushed the US administration to decisive steps.
"This is not just a matter of us being mildly upset, but is something that will put significant strains on the bilateral relationship if not resolved," President Obama said.
Obama's press secretary Josh Earnest said Thursday presidential office is considering economic sanctions against Chinese individuals and entities
claiming they profited from the results of the hacks
made in the US networks.
"I will just say that we have made clear our concerns about China's activity in cyberspace," the
Guardian
cited Earnest as saying. "There are a range of tools that are at the president's disposal to respond to those concerns. We do believe that having those tools on the table, including possible financial sanctions, have been effective as a deterrent and in advancing our interest in that regard."
And in case anyone doubts America's hacking capabilities, President Obama said that "Although the Chinese and Russians are close,
we're still the best at this
," adding that if the US goes on the offense, "a whole bunch of countries would have some significant problems."
Punishing alleged international cybercrime with economic sanctions is a newsflash and the White House might become a pioneer in that undertaking.
China has consistently denied all cybercrime allegations
.
Traditions mean a lot in the East,
where hosting high-ranking guests is an honor and responsibility
. The threat of sanctions comes just as the guest has crossed the US threshold. Earnest has also accused Chinese officials of unfairness, promising to pay "particular attention to China's behavior and their conduct," because, as he told the White House press corps, "Their actions are more important than their words."
The number of irritants in China-US relations appears to be growing steadily, with Washington and Beijing trading accusations about many issues for years. Cybercrime has always been positioned high on the list of bilateral accusations.
As the world's superpower (the US) and the world's emerging superpower (China), the two are locking horns diplomatically, commercially and to a certain extent militarily everywhere possible.
With China having territorial disputes with most of its neighbors,
the US is rigorously backing Beijing's opponents and arming them
, also sending additional troops and military hardware to the region in order to challenge China's claims in the South China Sea.
For example Beijing has a territorial dispute with Tokyo over a group of Senkaku Islands (Diaoyu Islands in Chinese) in the South China Sea, with Washington maintaining naval presence in the region.
"As a large country with a powerful military, you can't move around and push your little neighbors around just because you're bigger,"
Obama said.
The statement raised some eyebrows because that's exactly what many think the US does.
In turn, China pays little to none attention to Washington's critics over Beijing's constructing artificial islands and facilities in disputed waters in the South China Sea.
With China preparing to replace the US as the world's leading economy, every piece of economic news from Beijing is met with a nervous reaction from Washington.
Such was the case with the announcement of China planning to launch its own crude oil benchmark denominated in yuan, not US dollars.
In one case, the US and China have become rivals at a continental level. In Africa they compete over resources, in which Beijing has been investing for years now, establishing a secure African foothold.
Unlike the traditional international investment, China invests in Africa in a flexible way, opting to do business on an equal partnership basis without interfering in the internal affairs of the respective countries.
The US opts for a more confrontational approach
, forming the AFRICOM military command and moving drone bases there.
Washington and Beijing have accumulated tons of outstanding sensitive issues and whether President Xi's visit is going to solve at least some of them is to be seen soon, with the respective leaders preparing to test their personal ties this Friday.
Comment:
'Equal partnership', cooperation, respect, hospitality - these are foreign concepts for the U.S. It's either the U.S. in a position of superiority and domination, or nothing. China disagrees. They are also friends with Russia. That makes them doubly bad, in the U.S.'s books. And the U.S. is trying every
dirty trick
in their arsenal to reassert their largely illusory status as the ruler of a unipolar world.